Word Count: 1767
Est. Time to Read: a long read of 12 minutes (but worth it)
One can see them everywhere it seems. Major highways, intersections, well-traveled streets. There they are. Rectangular in shape. Yellow and black in color. Standardized. Sometimes a bit shady; sometimes well-lit and inviting. What makes them special is more about what's inside than how they look from the outside.
No surprise for many, this piece is about that long-lasting, ever present, amazingly predictable haven of savory food and uncommon customer service for travelers, anytime, day or night. Yes, you guessed it… Waffle House.
Our commitment here at GFB Monthly is to write about business and economic development in the Catawba Valley, including the companies and people who work there. So, why profile the Waffle House? Several reasons make it so easy to respond:
I like Waffle Houses,
They truly are a "Uniquely American (and Southern) Phenomenon",
Their business model for maintaining high levels of quality, consistency, customer service and growth are exemplary.
Right now, I imagine some, if not many readers are thinking, "Oh, all the fattening food." "Haven't they had safety issues?" "I wouldn't eat there" (usually said with no specific reasons or justification, just assumptions). Let's see if the following can change some of those perceptions with FACTS, background and insight.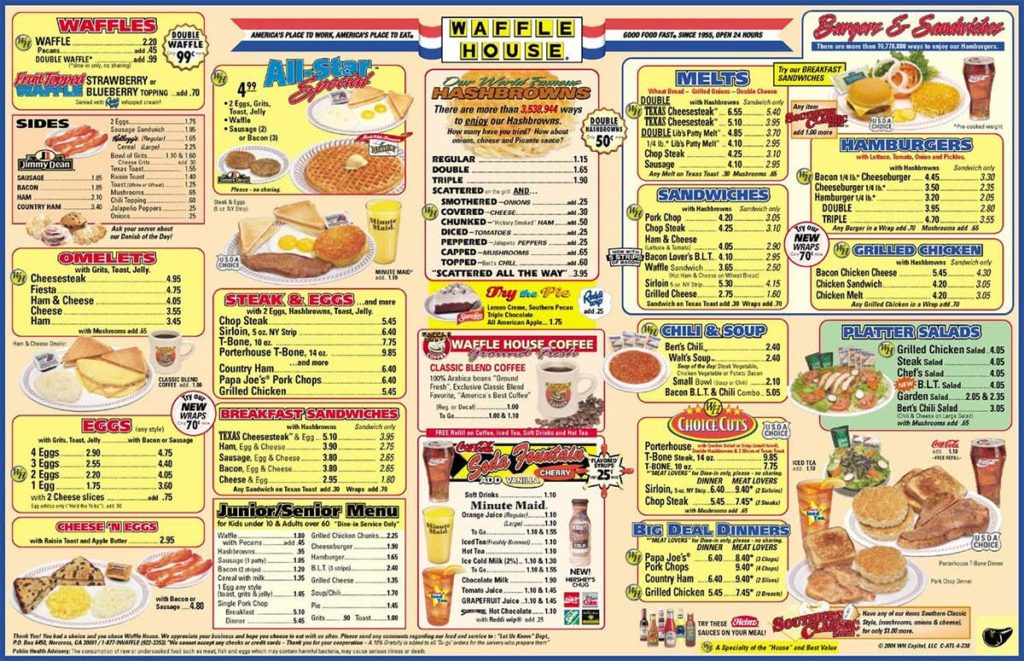 Brief History and Growth of WF
It was 1955 when two Georgian neighbors decided their area outside Atlanta needed a fast-service 24-hour restaurant. Realtor Tom Forkner and Toddle House Restaurant Regional Manager Joe Rogers, Sr. (who started at Toddle as a short-order cook…BTW look for a future article in GFB Connect Monthly when we interview the miracle workers – short order cooks) joined forces with Joe famously saying, "…You build it, and I'll show you how to run it."
Since waffles were the most profitable item on it's original 16-item menu, the pair christened the name Waffle House – obviously a dine-in place with no drive-through or carry-out given the flimsy and brief nature of waffles, but they soon learned of the significant confusion among customers who thought waffles were ALL they served. One restaurant turned into four locations in 1960, and by the late 1960's they opened their 27th restaurant.
Though today Waffle House is a significant road-side site in mostly southern states, they actually have more than 2,100 locations in 25 states. **North Carolina registers second with 182 sites behind home-base Georgia with 439. Catawba County alone claims three Waffle House restaurants and more in neighboring Caldwell, Iredell, Burke, and Lincoln Counties – all part of the "Valley".
Quite a growth story.
But, as with any growing company with so many locations, maintaining a consistent reputation, high quality of food and customer service, and quality of staff on a 3 shift, 24-hour, seven day per week, 365 days per year operation is often beset with unacceptable variations. Waffle House has some turn-over issues from time to time as most do. They responded aggressively and positively with the widely publicized 1993 salmonella problem affecting other restaurants, and the uncovering of a Hepatitis A positive test of an employee (WH immediately shut down the South Carolina location for sanitization). Other highly publicized "incidents" involved shootings, assaults, and occurrences of racially tainted charges, similar to those experienced by Starbucks and others.
YET…
Waffle House still stands by its business model, and has proven it to be successful time and time again. Consider these FACTS and MYTHS associated with the Waffle House operations and its brand:
As with other all-night eateries (White Castle, Denny's, Steak 'n Shake, Krispy Kreme, etc.) Waffle House has become a cultural icon with a strong band of loyalists and a healthy bit of folklore.


Omnipresence of over 2,100 locations, in 25 states, year-round 24/7 operations giving rise to the fable, "At Waffle House there are no locks on the door".


WH has released through its own record label, Waffle Records, several records often found on the ever-present Juke Boxes (now more digital touch screens) at each location. Songs are not commercial but related to the legend: "Saturday Night at My Place" (Gary Garcia, 1995); "They're Cooking Up My Order" (Alfreda Gerald, 2006).


ESPN in 2017 cited WH: "There is no business that has a more symbiotic relationship with college football fans of all stripes than Waffle House." (especially in the SEC and ACC)


WH has been mentioned or seen in many movies (Tin Cup, 1996; ATL in 2006; 2018 in Love, Simon; and Due Date, 2018) AND…


WH has been referenced in popular songs – "The Bad Touch" by the Bloodhound Gang, "24 Hours" by TeeFlii, "Big Amount" by 2 Chainz, "Alley Oop" by Yung Gravy with Lil Baby, "Welcome to Atlanta" by Jermaine Dupri. AND notably referencing the WH Lingo in the Hootie & the Blowfish" album, "Scattered, Smothered and Covered."


Waffle House does not advertise.


WH maintains, in Atlanta, its own Waffle House University to train its managers.


WH converted its original restaurant location into the Waffle House Museum.


WH maintains a test kitchen, also in Atlanta, where new menu items such as "Texas Biscuits" and "Blueberry Biscuits" are developed before being field tested in selected Georgia restaurants.


Waffle House maintains and actively funds it Waffle House Foundation dedicated to improving the quality of life in the communities in and around Atlanta.


The Waffle House server "special lingo" – a real trademark and a fascinating chant to be heard by diners: Hash Browns can be "scattered", "diced", "covered", "smothered", "chunked", "peppered", "capped", "topped" and/or "all the way" – literally. **I really like this innovation since I have always been fascinated by exactly how WH short order cooks are so well-trained to remember multiple and many-item orders without having an order ticket to which to refer. Researching this article and interviewing a WH Regional Manager gave me the answer to this mystery.


It's NOT a phenomenal memory these cooks are endowed with; it is the Waffle House "code". "Using careful placement of accoutrements of jelly packs, mayonnaise packets, pickles, cheese and hash brown pieces, grill operators are told which orders go on which plates." For example, a jelly packet at the bottom of the plate means scrambled eggs. Raisin toast is signified by a packet of apple butter. A mustard pack facing up means a pork chop while face down means country ham. A pat of butter is a T-Bone and its place on the plate determines how the steak is cooked, from well-done at the top, rare at the bottom." WOW! There is a LOT of training that goes on to recall this!
**This info was sourced from a 2017 ESPN.com story.
AND GET THIS…EVERY MINUTE among the 2100 + locations:
∞ 127+ cups of coffee served
∞ 341+ strips of bacon served
∞ 238+ hashbrown orders are served
∞ 145+ waffles are grilled
∞ 33+ hamburgers prepared
∞ 96+ orders of grits served
∞ 16+ Texas cheesesteaks prepared
∞ AND since 1955 OVER 2,501,866,574 (that's billion) eggs have been served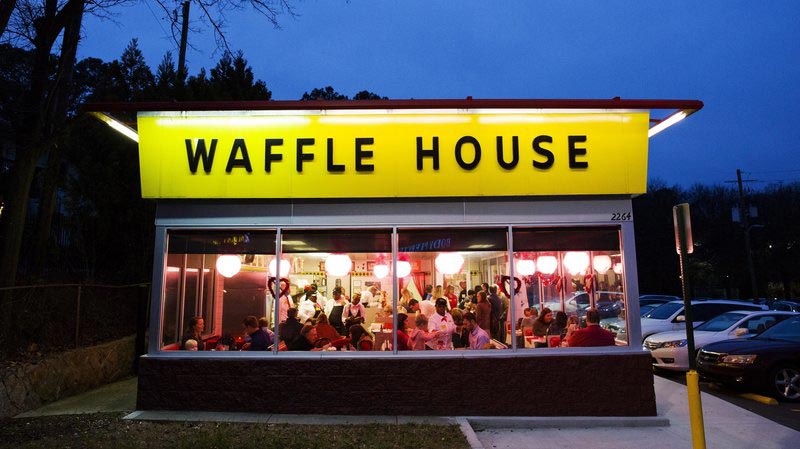 Why?
So, once again, why are we extolling Waffle House restaurants in this regional business journal on business and economic development? While the history, growth, quality control, "Waffle House Way" code of conduct and operation, and the numbers above should make it obvious enough, I would add my own take…
Some years ago on the speaker's tour as a Healthcare Consultant on Organizational Effectiveness for The Jackson Group, Inc., I presented to a group of Healthcare CEO's and other executives at the highly regarded Rowland Library of the Duke Endowment, in Charlotte. I spoke to them about my view on the "customer service" model exemplified by WH in a presentation I titled, "In Praise of Waffle House".
I pointed out several factors that made the Waffle House stand out to me as a model of customer service:
Everything is done in the open. All cooking, ordering, etc. is in front of the customers; no hiding behind doors, blaming mistakes on "those in the back";


No Advertising. They are open 24/7/365. **In fact, they are the bellwether for FEMA during a disaster as to the severity of the disaster. If they are open, people have a place for food. If they are closed, FEMA knows it is VERY bad.


If one looks closely somewhere behind the swinging door on either the right end or left end of the rectangular building, perhaps there can be a glimpse of the yellow and black poster of the "Waffle House Way", a neat combination of their values, code of conduct and operational standards. In most of the shops where I have stopped anytime of the day, the staff seem to be practitioners of the Way.


You are ALWAYS greeted cheerfully by staff; usually offered a cup of coffee and then immediately tended to.


The server is always visible, unless on a break, so one can get immediate needs tended to without having to search for the server.


There seems to be a normal tone (not mechanical nor false) of teamwork and conviviality among the staff.


All is pretty much predictable. Much like going to a Marriott or Chick-Fil-A, you expect consistent quality and customer service and you find it – the "brand" calls for it.


WH obviously values longevity and performance. One can tell by the pins nearly all staff have earned. Just ask them how they earned those pins and stars.


Prices are fair, and the menu is consistent. That is not to imply WH is not innovative (see my comment about their testing labs and University in this article), AND I have recently heard what MAY be either a rumor or an idea under consideration – WH may be considering the implementation of WH Food Trucks!


Well, Mr. Author?
Full disclosure…complete transparency…
I guess there is no disguising my being enamored with Waffle Houses, their history of growth, their business model, "codes" (the "mark" system), customer service and the use of their Waffle House Way to train and reinforce their staff's behavior and their processing of work (referred to as their "playbook").
So, do I eat there? Yes, although more so in the past when half my life was traveling from client to client. My favorites? That's easy. For breakfast: three eggs scrambled with cheese, country ham and hash browns "scattered, smothered and covered". At other meals, it is either a cheeseburger platter (no fries offered) with lettuce/tomato and hash browns – as described above OR two sandwiches – grilled cheese with a slice of tomato inside wheat toast and/or a classic BLT. YUM.
Tony Jackson
Managing Director
GFB Connect, Inc.
Resources for this article:
"Waffle House" – Wikipedia
Waffle House website documents on history, operations, foundation/university/and test kitchen
Is this heaven? No, it's a Waffle House. ESPN.com.
Speech Notes, 1996, AKJ Presentation to Carl Rowe Library Series for Healthcare Executives, "In Praise of Waffle Houses"
Interview notes taken during conversation with a previous Waffle House Area Manager, Irene Austin, Hickory, NC
Personal observation of a LOT of midnight stops at Waffle House – for this author.