Word Count: 1139
Est. Read Time: 5 mins.
If you have not already read this issue's article (SERVE category) on Chick-Fil-A's wonderful and heartening approach to building and maintaining a customer-centered culture, we certainly hope you will. Interesting story. In this piece we are also focusing on Chick-Fil-A, but with a concentration on Leadership and how they develop Operators/Leaders in this family-owned business. Specifically, we explore the guiding principles of their company and the unique "Leadership Toolkit" employed by CEO Dan Cathy, son of the founder and inspirational leader of the company, Truett Cathy.
More Than Luck
Obviously, not many companies become successful as a business, a desirable place to work, a model of customer service, and yet stay on a track as a rapidly growing company unless they are led by, mentored by, and encouraged by intentional leadership. In the case of Chick-Fil-A, they choose to be very intentional in framing their "purpose" (crafted by founder and strong spiritual leader, Truett Cathy), their principles and values (as guideposts for all employees) and their "leadership Toolkit".
Purpose, Values and Principles
The founder's Corporate Purpose Statement:
"Our purpose is to glorify God by being a faithful steward of all that is entrusted to us. To have a positive influence on all who come in contact with Chick-Fil-A".
According to their founder, "We should be about more than just selling chicken. We should be a part of our customers' lives and the communities in which we serve."
These words are nice, meaningful and personally felt by both the founder and his son, current CEO (Chief Encouragement Officer), Dan Truett…but what about translating those lofty words to their employees (Team Members, Operators/Managers, and each restaurant's Directors)?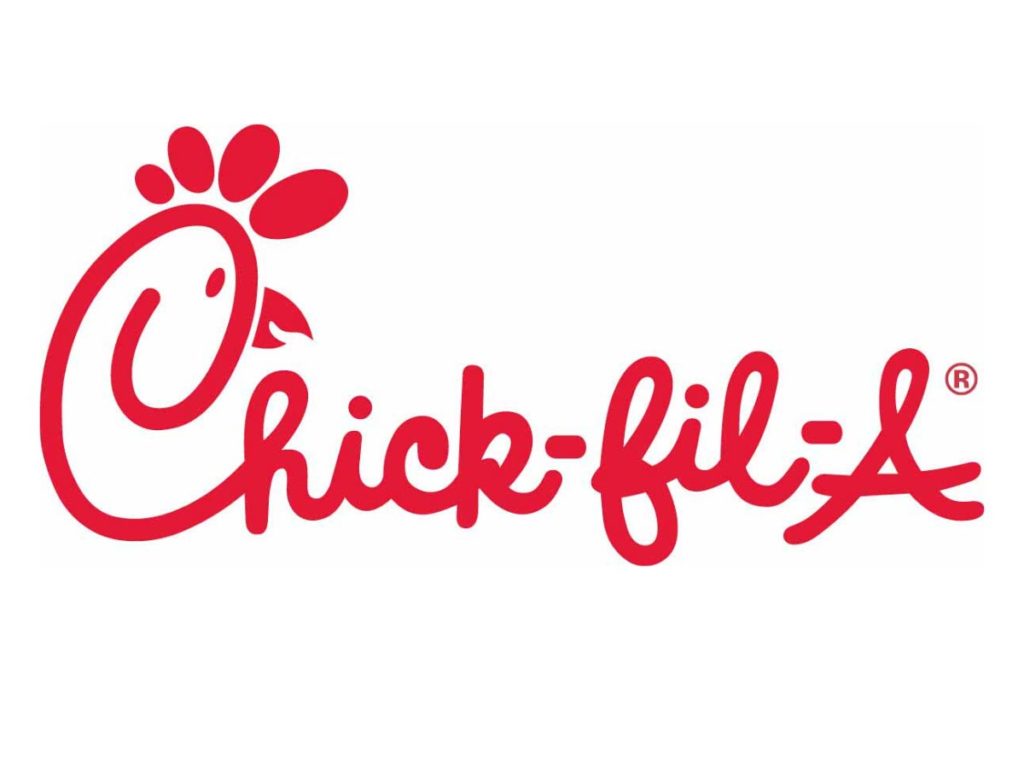 Teachers and Learners …Positive Influence
The chain was founded in 1946 and now has more than 2400 branches across the country with each location earning about $4.8 million per year, which is nearly double the annual income of most McDonald's outlets. However, their slow and steadily successful business growth has not only been driven by shrewd decision-making, luck, and a hungry-for-chicken marketplace.They seem to live by their four guiding principles:
A driving dedication to Customer Service

Powerful Marketing

A Specialized, Focused Menu

Values and Authenticity – Living by what they say is important


Dedication to Customer Service. This principle really stands out at CFA as it differentiates itself in a sea of fast food firms, most of which are not known for personal customer service as they hire teens for low wages and on a short-term basis. Chick-fil-A racks up top scores on every customer service rating service, year after year, store to store. How? Read our SERVICE article this month, "So, Just How Do You Do That?".
Powerful Marketing. If I were to mention "black and white cows" or the phrase, "Eat Mor Chikin", which restaurant chain comes to mind? No brainer, it seems. CFA's cows are on the Madison Avenue Walk of Fame. On Cow Appreciation Day free food is given to customers dressed as cows. Why so popular, other than being original and creative? They evoke in customers' minds the desperate underdogs under threat from hamburger establishments.
CFA's Specialized Menu is highly intentional. There is only one food product you want when you enter a CFA restaurant – the chicken sandwich. No one goes to a Chick-fil-A for an English Muffin or a fish sandwich.
The "lesson" being taught by CFA's limited menu is simple. It is tempting to quickly branch out and add an array of items to the menu in order to pull customers from competing chains. But, rather than promoting subs, coffee, burgers, fish, salads, etc., CFA pushes what they do best…and what they do best is CHICKEN.
As for living by its Values and Authenticity, the most notable example is Truett Cathy's "most difficult decision": not to open any Chick-Fil-A restaurant on Sunday…as a matter of principle and intentionality. He wanted to respect the Sabbath, per his deeply ingrained faith, and he wanted to ensure all his employees (Team Members) had a "day of rest".
Customers can see this is a company that cares about more than just maximizing profits and money. This gain for authenticity may incur a loss of revenue, but customers translate CFA's values to include a quality product, thus the value/quality connection is made.
Sometimes, standing by one's beliefs translates into "good, profitable business".
If what you have read thus far in this article (and the SERVE article, "So, Just How Do You Do That?")has made you curious about Chick-Fil-A and its innovative and even unusual approach to business, you may also be curious as to how CFA develops its leaders.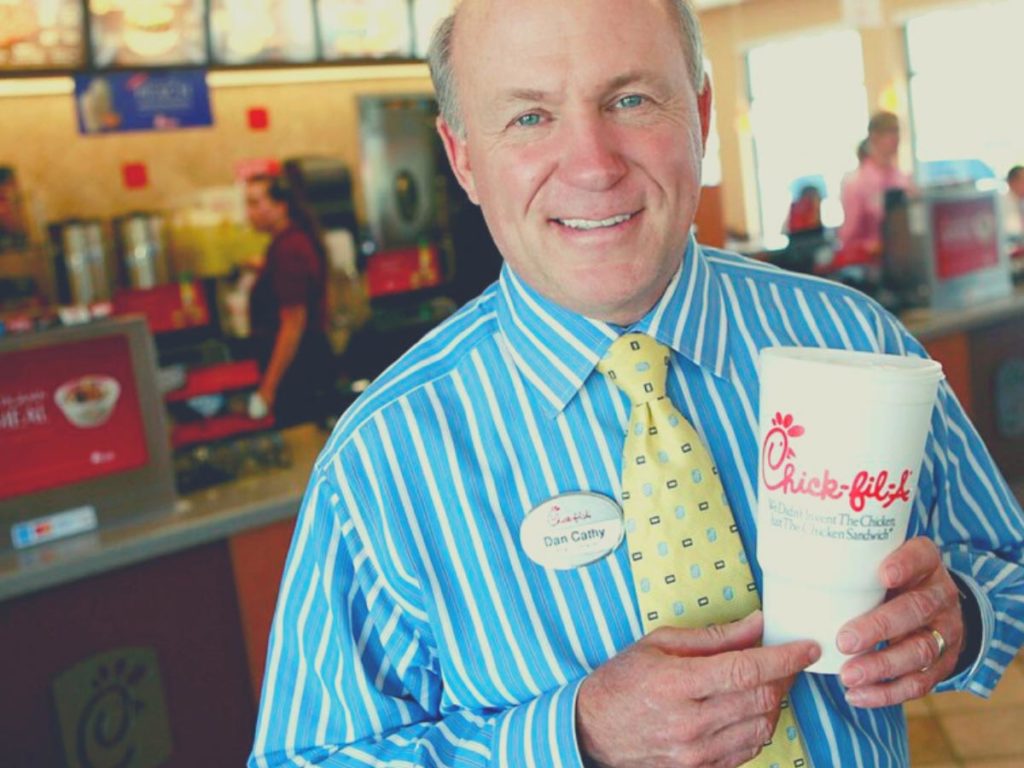 Dan Cathy's Leadership Toolkit includes three items to help develop leaders of the CFA culture and traditions of quality food and amazing customer service:
A Baton. Cathy believes the success of any company is determined in part by succession – "Who is going to carry the baton" for us in the race? It is, he believes, not the fastest four individuals who win, but the TEAM that effectively passes the baton to each other".

An Oxygen Mask. Reminiscent of airline attendant's advice to "put your oxygen mask on first in case of an emergency", Cathy reminds CFA leaders to take care of themselves, since to do so is the best way to help others be at their best.

A Jar of Jif Peanut Butter. Cathy reminds his leaders, operator/manager and team members to "stay fresh and open to new and even unconventional things". To him, he is reminded of that need every time he takes off the foil/cardboard lid of a fresh jar of Jif. The aroma speaks to him. He suggests leaders think outside the box, and the best way to do so is to get outside the box – get out, travel, look around, and listen to others.

A Roll of Toilet Paper. Think of the roll of toilet paper in a fancy hotel room with the end of the roll folded neatly in a triangle, implying "we are taking care of this as well". Small details are important and make big differences. "Create your own repertoire of little pleasant surprises for our customers", he advises.

A few more nuggets:
"Fall in love with your work and you'll never have to work a day of your life."
"Enrich your life, and in turn you'll enrich the lives of others."
"At Chick-Fil-A, CEO stands for Chief Encouragement Officer".
Obviously, teaching, learning, and developing people are very important assets of this very fine, customer-sensitive, and profitable company. Congratulations and Thank You!
(A key source for this piece were the summary notes of a talk Dan Cathy made to a packed auditorium at SAS Headquarters in Cary, NC, as reported in the SAS Newsletter.)
Tony Jackson
Managing Director and Founder
GFB Connect, Inc.