Word Count: 1430
Est. Reading Time: 6 minutes
Panic, frustration, idle curiosity, aggravation, too much time, and the need to re-focus. Now those are hardly typical reasons to start a company, particularly if they are all being encountered at the same time. Yet, those emotions and feelings are exactly the reasons that drove one, now local, woman to start her company. With no regrets of the past eight years of success for her entrepreneurial firm, she looks forward with ambitious plans to the future. Not bad for someone with only an idea born of frustration.
The Entrepreneur in Karen, Uncovered and Unplugged
A Scottish woman marries an English gent in a castle, lives in North Carolina and vacations in the Cayman Islands, framing the saga of Karen Tonks, who not long after, founded Time Genies.
Interviewing Karen, as we sat in an Atlanta Bread company one morning recently, was a … well, it was a trip; a non-stop several minute recalling of an unbelievable cascade of events that eventually led to her starting her company. Time Genies was not founded in a traditional way, and not for traditional reasons. In fact, I doubt if there has ever been anything traditional or even usual about Karen Tonks.
One could sense this was to be an unusual, fun, and engaging interview in which my role was simply to listen to this non-stop storyteller. Her colored hair, matching outfit, and oddly painted nails should have told me what to expect. And it did. Excitement, candor, enthusiasm, fast-paced and lovely accented verbiage, and a very orderly re-telling of this journey – all were present.
One thinks of the founding of an innovative company, particularly entrepreneurial in nature with all the start-up frustrations, as being a methodical, long thought-out process of weighing pluses and minuses, assessing the market and needs and the competition, seeking funding, and then taking the plunge. Not so much with Karen Tonks.
After the mentioned marriage to her husband Alan, Karen vacationed with some friends in the Cayman Islands, spending time at one friend's house. The friend's husband worked in the US Embassy. Alas, Karen forgot to pack her Green Card (a necessity when traveling) and, upon learning of that, encountered seven weeks of frustration away from her husband and child while trying to get a temporary card for re-entering the US. What was supposed to be an easily handled paper transaction involving only 7-10 days of waiting, ended up being seven weeks, and included travel to another island and back again, hassles at the airports, and delays.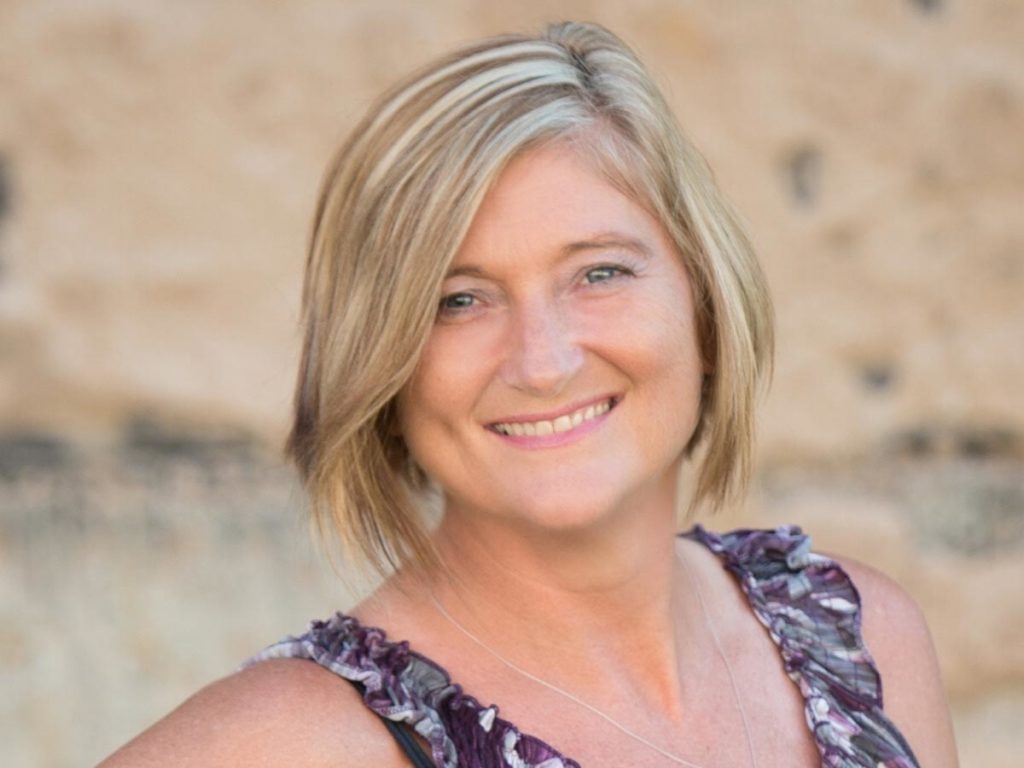 Resolves Changed Her Life; Created an Entrepreneur
BUT, all this led Karen to several firm resolutions about her future:
She wanted more time with her family
She wanted to be in control
She wanted to enjoy her work
She had to work around people, not computers
She wanted to find the right balance of her life with her family and her work
She wanted a company of her own, one she could grow at her own pace
No problem, right? I mean, who doesn't have all that in their lives? Right. These noble objectives are rarely found in sync in one person's life.
Well, Karen is not like most. The right pieces fit in the right boxes for her. It seems during her laborious seven weeks in purgatory waiting for the snail's pace "process" to unfold, Karen got bored, to say the least – even in the Caymans. So, she offered to clean and do odd jobs around her friend's house, just to stay busy and keep her mind off her being so far away from her family, to whom she is extremely close.
As things finally wound down and a resolution to her situation became clearer, Karen realized how much she enjoyed cleaning and doing odd jobs for her friend. Given that this was not only a distraction that gave her a sense of accomplishment and offered control over her time, but was actually enjoyable (being the neat-freak she is), she thought – after her friend suggested so – that other people might actually pay for such services.
Timely Decisions?
A number of studies in recent years have revealed that many of those in today's workforce pine for the same things: control, meaningful and enjoyable work, and work-life balance. Movements in the world of work – all types – have evolved from those wishful thoughts. The advent of flexible work schedules, Casual Fridays, relaxed dress codes, rapidly job hopping, second jobs, delayed retirement, etc. all relate to changing and evolving employee needs and interests.
As swings in the market, shifts in production sites overseas, and competitive pressures continue to dominate the landscape of traditional businesses, workplace stress and anxiety continues to increase. This stress often forces employees to make painful decisions, such as changing jobs, working a second job, taking the first job available, and moving families across the country.
So, it seems the decisions Karen Tonks, the would-be unintentional entrepreneur, made were timely, fortuitous and wholly unplanned.
And, so it is for many entrepreneurs. No grand plan, no lofty goals to begin with…just personal resolve, commitment to something more than "simply working a job", and an idea that, if implemented, makes them happy and personally successful.
Leap forward eight years in Hickory, North Carolina. It would not be unusual to see – in fact, it would be hard to miss – Karen's Time Genies purple/pink color scheme and company logo, the butterfly in flight on her vehicle around town. Her work running Time Genies and supervising the various crews – all independent contractors – keeps Karen running and visible within the community. Not being completely fulfilled running her venture, Karen has been integrally involved in Chamber of Commerce's Executive Board and its events. She serves on Boards, is a Chamber Ambassador and recently completed the highly-touted Leadership Catawba series designed for emerging community leaders to learn even more about the communities they serve. It is rare to find someone who doesn't know or hasn't yet heard of Karen Tonks.
So, thinking of the well-chosen butterfly logo, a more appropriate vision of both Karen and her company could not have been selected. Certainly "flitting about" job to job, involvement to involvement, and interest to interest seems compatible. "Emerging" from a dormant state, and developing into something bright and beautiful seems on target as well.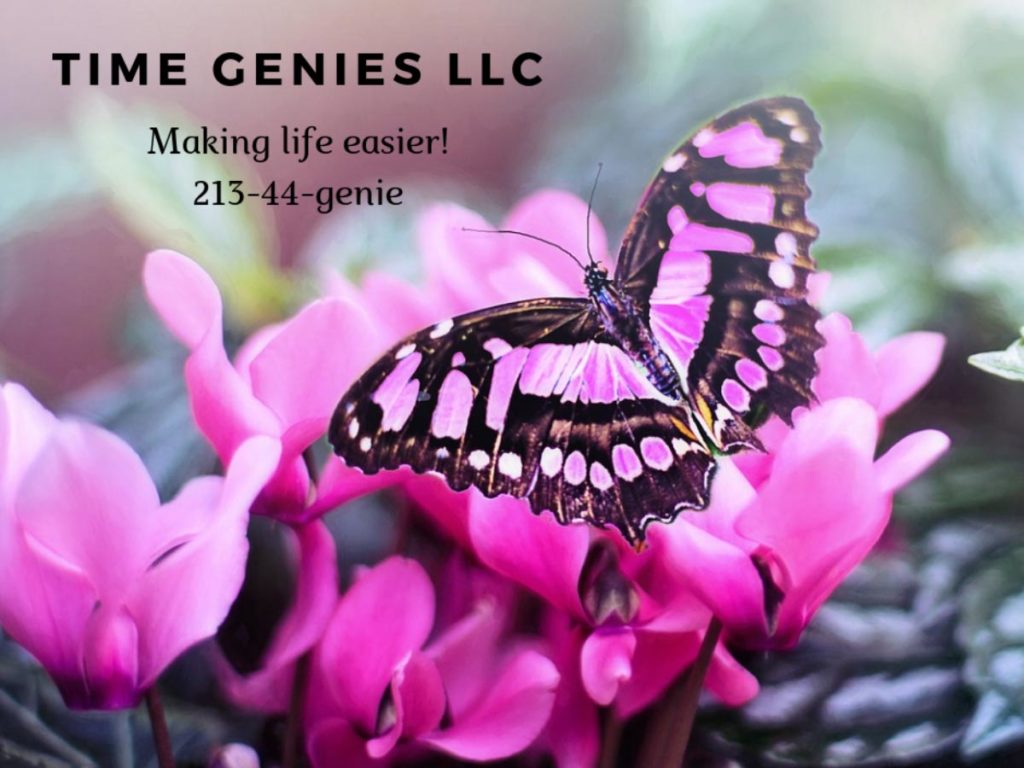 Time Genies' first eight years in business have "emerged", as has Karen. A wide range of Corporate, Personal Concierge and Errand Services fit her goal of helping people ease the stress and strain of everyday living, allowing them to spend more time and energy on themselves and their families.
The volume of work appears to have been dominated by cleaning services of both residential and corporate environments, but the array of services available spans far beyond and into Personal and Office Concierge Services (making arrangements, running errands, shopping, event planning, etc.), Home Organization Services (creating living areas free of clutter and unnecessary mess), Realtor Staging Services (helping homes sell faster by creating a different vision of a house), and even offering assistance in the relocation of one's home or business.
Look up Time Genies: www.time-genies.com. You will like the web site; it makes you think of Karen's personality. Her services are a perfect fit for today's fast paced life, multi-tasking work habits, conflicting obligations and the ever-present need to "balance", if there is such a thing, one's personal life with other priorities. You will be pleased.
So much for the history and the "now" of Karen Tonks and her unique service brand, Time Genies. What about the future?
Karen hopes to acquire more of the concierge and home staging contracts, and is strategizing about how to do so. However, she also recognizes the need to keep corporate and residential cleaning services, routine and deep clean, available to people. That is her core service.
Beyond continuing to do well with her business contracts and build her brand, Karen, while admitting to being just a "bit competitive", would love to expand her business and perhaps even look into franchising.
An early and continuing resource of guidance and a sounding board for her ideas is the staff at the Small Business Center (CVCC) and its director, Jeff Neuville. She credits Jeff as saying, when Karen shared some of her early doubts, "Karen, if anyone can pull this off, you can!"
After talking with (listening to) Karen talk about her determined, but difficult, journey to start her own firm, I easily share Jeff's optimism and confidence in Karen. An easy thing to do.
Tony Jackson
Managing Director and Founder
GFB Connect, Inc.