711 words
4 minute read
Downtown Hickory is changing…and yet staying the same.
Most Catawba Valley residents know of the creative and expansive renovations being made to both the downtown Hickory and Newton central business districts. If you have not yet visited both venues, you owe it to yourself to see the changes and improvements aimed at making both "places of destination" and "more walkable, pleasant" business districts.
An additional benefit of "upfitting" downtown areas is the generation of new business ventures that, in themselves, become destinations of choice and a reason to visit the downtown area.
One notable addition to the "uptown/downtown" Hickory area is the arrivalof Notions restaurant on the Hickory Square. Occupying a space formerly housing several other business ventures including the historic Zerden's Men's Shop (also once known as a "haberdashery", a store of "clothes and notions") as well as other eateries, Notions appears to be filling a niche for a type of dining environment known as "fine but casual" on the downtown square.
Many in Hickory and surrounding areas have pioneered and promoted the idea of Hickory "as a destination place", and much of that destination is built around the hospitality and dining businesses. Other notable "fine/casual" dining establishments have found much favor, loyal patrons and a welcoming environment over the past 8-10 years. The veteran, Vintage House, has been joined by BOCA, Highland Avenue, Fourk, Café Rule and Wine Bar, and the recently reopened (see related article on owner, Zack Cranford, this issue) Charolais Steakhouse. Each has added its own style, variety, and diversity to the local dining landscape.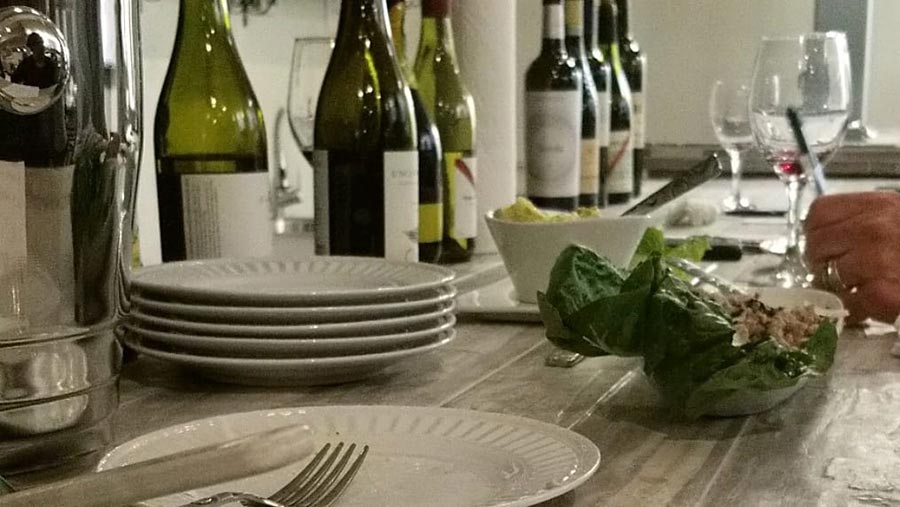 So, what will set Notions apart? What unique niche they are filling? Why dine there?
Simply put, Notions' presence is located in downtown Hickory proper which is a focus of renewal per the bond issue that features the City Walk, Downtown Renewal, and the River Walk. As with several other businesses, Notions creates value by reusing historic buildings in the core downtown business district, thereby preserving a piece of Hickory's past. Additionally, Notions creates a unique blend of both "fine dining" and "casual dining" space that was much needed in the downtown space. It is a nice complement to the overall emerging landscape of downtown Hickory as a "destination place" for those looking for an evening of comfortable sociability and dining.
With regard to the "Why dine there?" question, Notions already fills a spot on this writer's personal list of favorite evening dining places in Catawba County. The personal list of five favorites all pass a pretty picky "check off" list of personal criteria:
Visually attractive environment; i.e., nice décor, appropriate "eye candy" of colors, artwork, good lighting, a modern "look" without being too trendy or extreme;
Dedicated local ownership and staff;
Extremely important – Quality of customer service and responsiveness, including respect for the customer without being either pretentious or gratuitous;
Promptness and authenticity of a personal greeting (I count the seconds that elapse between my entering and when someone initiates a verbal word of welcome, eye contact and a smile);
Unique food offerings; i.e., overall qualities of taste, presentation and appearance (let me know I am getting my money's worth);
Polished skills of the wait staff (manner of dress, obvious positiveness and politeness, general appearance and "proper" serving skills – checking back frequently without being a pest, for example);
And, IF I become a "regular", it is always a plus to be remembered: name, preferences for dining and drinks, etc.

Well, that is just me – one customer's views of what is important in selecting a dining spot. I can say without any reservation that Notions checks all those boxes with ease.
It is obvious from entry to exit that Notions lives up to their three core values: Provide Value, Ensure Consistency (of good food, every time), and Display Superb Customer Service and Responsiveness.
Visit Notions and enjoy a pleasant customer-responsive environment, a very knowledgeable bartender (Daniel Blackburn, already known to many in the city), and – of course- savor some really interesting, well-prepared meals. You will return.
---
By Anthony K. (Tony) Jackson, MBA, Entrepreneur, Founder of GFB Connect, Inc.