1269 words
7 – 9 minute read
I believe I have just spent two hours interviewing a model of entrepreneurism.
GFB Connect focuses on celebrating small, locally-owned and entrepreneurial businesses in the Catawba Valley with the belief that these "gems" are not only a representation of what we do best, but will determine the future economic and business success of our area and the Valley's attractiveness to others as a place to live and work. Many of those innovative businesses can be found in the food service industry. In fact, Hickory, Newton and other "renewed cities" (Lenoir, Conover, and Morganton) have already gained a reputation as "destination cities" for evening and casual dining. As a friend from Mooresville once voiced to GFB Connect, "I may live in another place, but I go to Hickory to enjoy an evening out."
So, it makes sense to interview one person solidly behind some of this growth in the Hickory area – Zack Cranford, named by BusinessNC as a "2019 Trailblazer", recognition given to young entrepreneurs.
Zack Cranford is not only a true entrepreneur, but he is a part of an entrepreneurial family – literally. His family is comprised of a mother, father and siblings who all "took the plunge", endured the stress and struggles of business ownership and still came out ahead.
I met Zack, after hearing his name associated with various other business ventures, for the first time at his latest venture – buying and revitalizing one of Hickory's oldest and most revered steakhouses, The Charolais Steakhouse. After seeing the mostly finished interior of this storied favorite steakhouse, well, suffice it to say, "It's as impressive as it is comforting". Comforting to envision the familiar old interior dimensions, the interesting bar seats and the vestiges of the well-regarded salad bar, table-side presentation and selection of beef – all focused on comfortable customer convenience. One would be well-advised to add this place to their "favorites list" for fine/casual dining, as this writer has already done.
It is worth noting that Zack, developer and owner of Foothills Distillery (Conover), Standard Oyster Company (Hickory) and the recently re-created The Charolais Steak House (Hickory), came quickly and with good intent to the world of entrepreneurialism. Growing up in Burke County's Icard, Zack often worked in his parents' own venture, Granny's Country Kitchen, providing not only labor but soaking up what it was like to own and run ventures. He saw firsthand the struggles of his entrepreneurial parents, yet slowly began to believe that he was made for this type of work. Zack even admits, as many of the entrepreneurial ilk do, that he "could never see himself working for someone else – a regular job. I don't think I would be happy and probably not a good employee". Perfect words from an entrepreneurially – natured person. He credits his parents for instilling his personal work ethic, pride in what he does, and humble acceptance of success – rightfully so, says this interviewer after having the pleasure of meeting Zack's parents, Lisa and Kent Cranford. Truly nice people to meet.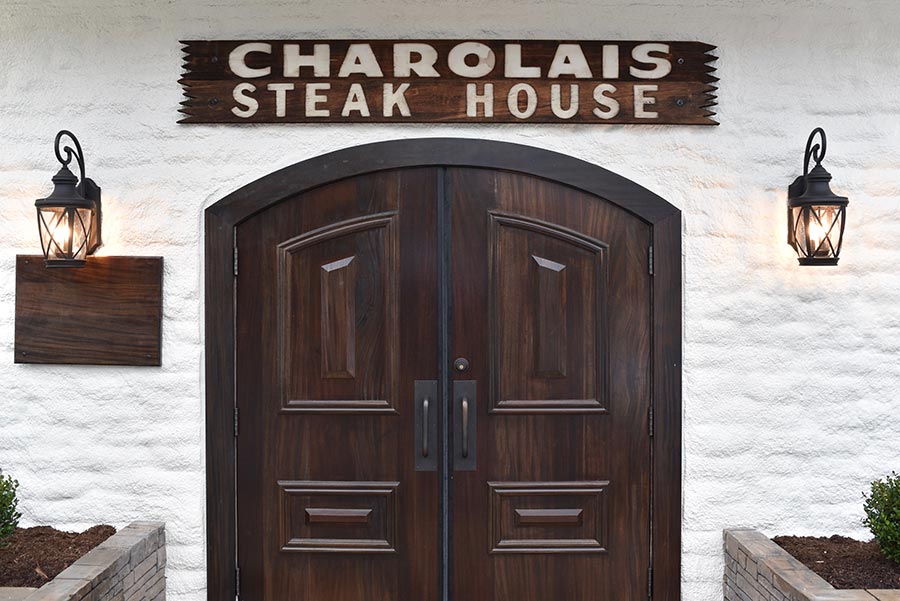 This GFB Connect interview focused not so much on Zack's businesses (much more on those in future issues of GFB Monthly) but on Zack the entrepreneur. Until spending some time one-on-one with Zack, I admittedly held impressions of many entrepreneurial types as being hard chargers, a bit brash, high ego, focused on money to be made, and certainly a highly extroverted personality charging headlong into the face of risks associated with owning one's own enterprises. Not so with Zack.
Zack presented himself as "humble" not self-centered, thoughtful and respectful. He quickly thanks his parents for being his models of good stewards of what one builds and owns. He praises his wife's tolerance with his long hours, as she continues her education, and her own participation in the businesses. Johnna knows well what drives Zack – creating a product that adds value to the community. He likes to get his hands dirty, deal with detail, hire with extreme care and high expectations, and enjoy the subtle victories each step of the way.
At their worst, entrepreneurs MAY be "headstrong gamblers". At their best, they create value despite the "gamble". Zack, the gambler, seems "all in" – evolving naturally into this role, trained in the finesse of the art, and fully committed. Entrepreneurialism is, for him, not a part-time lark or consuming hobby. It is rather a way of life, a mind-set and even a calling.
After graduating from NC State University's noted Poole College of Management (minoring in Entrepreneurism), Zack began addressing a growing industry in Catawba County by founding Foothills Distillery in Conover. The distillery produces Seventeen Twelve Bourbon, the first legal bourbon distilled in North Carolina since Prohibition. For "bourbon appreciators", the bourbon produced is "grain to glass" with all grains used in the process – up to four – produced in a small radius around Catawba County with no outsourcing. Given that it's all local, it therefore supports those other important entrepreneurs… 'farmers". (See future issues of GFB Monthly for a more in depth look at the distilling industry in the Unifour – and more on Foothills.)
Zack also walks the walk of "entrepreneurialism" by being a consummate "learner" of the art. Whilecrafting Foothills Distillery and developing the Standard Oyster Company, he continues to build on lessons learned as an entrepreneur.
When GFB Connect asked Zack to share his thoughts on "how others who know you well would describe you", Zack responded: "motivated, passionate and down to earth". After meeting him, GFB agrees.
What advice would Zack provide to a new or soon-to-be entrepreneur? Zack quickly responded, "Be ready for a lot of hard work and expect to take risks". He thinks entrepreneurs should be "hungry" for something: building things, creating value, and contributing to their community". Again, no argument from GFB.
When asked "What do you find yourself doing when things go bad, when you get down, or you simply face a short-term lack of motivation?" Zack quickly responded: "My family". It's obvious that both parents and Johnna are his motivators, his refuge, and his reminders that he is doing important stuff – the right way.
What does the future hold for Zack? Will he grow and sell his businesses, develop new companies, stay only in the food and beverage industry?
Zack suggests, "I want to see us develop more businesses and create value in them and for the community. There are gaps in the food and drink industry in our area. Those are opportunities"
Thank you, Zack, (and wife Johnna, parents Lisa and Kent) for choosing to be in Catawba County and for allowing our GFB readers get to know the "person" behind the businessman.
__________
Look for insight into business models, back stories, and success points related to all Zack's ventures: distilling, oyster eatery, and fine/casual dining ala the Charolais in future issues of GFB Monthly.
In the meantime, dine at The Charolais Steak House, visit Foothills Distillery, eat some oysters at Standard Oyster Company and while you are at it, go next door to the Standard Oyster Company and have a great breakfast at Granny's Country Kitchen.
---
By Anthony K. (Tony) Jackson, MBA, Entrepreneur, Founder of GFB Connect, Inc.