1382 words
6-8 minute read
If you, at some point in your life, have been captured by the allure of the silver screen, its larger than life stars, the origins of the film, the "backstage" details or simply the artistic side of a production, you need to be aware of one of Hickory, NC's fastest and most fun growth entrepreneurial enterprises – the Footcandle Film Society, Inc. A quick overview of Footcandle:
Started with two guys enjoying films – watching and discussing
Grew to a collective group of 10-12 friends meeting in a conference room
Now, over 600 members; Over 150 on a waiting list
Member-based; invited to view a minimum of 12 films per year
Preference for independent and Oscar-nominated films that did not make it to Hickory
Growth? Now also shows films in Newton; partners with other organizations
Has produced five (5) Annual Film Festivals attracting (this most recent festival) over 300 film submissions from many countries; Board members and "selectors" select 35 films to show in one weekend
Expansion and development of regional film production center possibly in the future

Just Two Guys Who Enjoy Films
Watching and "diagnosing" films have been hobbies for years of both founders of Footcandle, Chris Frye and Alan Jackson. In 2008, though Frye and Jackson decided they had had enough of "just the two of us" discussing the film they just watched over drinks and food. Their next move? The founding of the Footcandle Film Society as a not-for-profit firm. Beginning with a small group of 10-12 friends who liked films, Footcandle Film Society, met initially in the Jackson Interactive, LLC conference room where members watched and discussed the films of choice. These films typically had not made it to the local Catawba County theaters.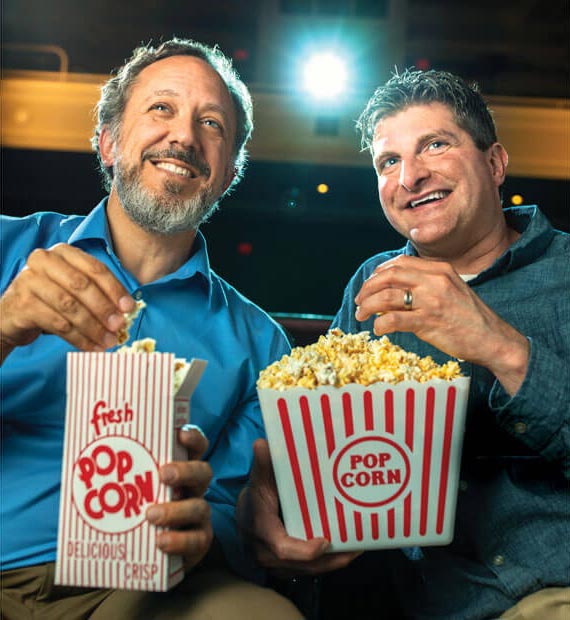 Many think of Film Societies showing only deep thought films, foreign films or controversial films prompting much inconclusive insight and discussion.
Such has not been the case. Chris Frye admits to being a fan of sci-fi flicks and edgy films that challenge one's thinking, while Alan Jackson seems to prefer classic Alfred Hitchcock thrillers and even the latest superhero films. However, growth of the Film Society, in leaps and bounds of membership, brought on a number of changes to the business model.
In the eleven years since its founding, Footcandle has grown from the small group of a dozen to over 600 members (paying $75/year for two admissions to at least 12 films per year). They have outgrown their capacity to show the films to larger crowds and now face a growing "wait list" of over 160.
A Business Plan?
Well, that is an easy answer, according to Alan and Chris. Their complicated, challenging and laborious "business plan" was simply to show films to people who like films, then talk about them.
Managing Growth While Growing
So, how has Footcandle handled this growth, and how have they maintained, expanded and enriched its brand?
Planned out in detail or not, Frye and Jackson and their seven-member Board of Directors started renting one night of show space from the Carolina Theater. One film, one night per month. The society then grew to two nights per month, filling the theater each showing and featuring an after-film discussion between Frye/Jackson and the audience that chose to stay 20 minutes after the film.
They have balanced their own preferences for films (rented from film distribution houses) with interests of their members. They now show a mixture of Oscar-nominated films that did not make it to the Hickory/Newton theaters, foreign films, independently produced films (preferably by NC or small regional producers), and classic films. They often do not know what films are available until the week before the monthly showing.
They maintain a web-site (www.footcandle.org) and regularly communicate with members and the non-member community about upcoming films by Facebook posts, emails and texts. They personally research each film in advance of its showing to add to the after-film discussion, and they frequently watch the film themselves for the first time along with the audience so they can form their own unbiased opinions as do the attending members.
Continued Growth?
Still a growing business? Sure, although not by accommodating the waiting list – YET – but by adding new members, offering films in conjunction with other local groups (Greater Hickory International council, LRU's Visiting Writers Series, Hickory Community Theatre, NC Cooperative Extension of Catawba County and OUTRight Youth of Catawba County, etc.) and adding occasional showings of films in the Newton – Conover Auditorium.
Expansion? Again, yes. After six years of operation as a Film Society of and for local film enthusiasts, the Footcandle Board wanted to initiate their own Film Festival as they seen in regional locations (Winston-Salem, Charlotte, etc.).
They have just completed, with record ticket sales and attendance figures, their fifth Footcandle Film Festival, an event normally held in September of each year. Plans are already underway for the sixth production in 2020.
While presenting 35 films in one weekend (from over 300 submissions from all over the world) seems to be a daunting feat, making those selections in categories of short film, full-length documentaries and feature films is downright scary as their selectors watch all films in their particular category, and several Board members screen ALL 300+ to make their recommendations.
All films are produced by independent filmmakers, many of whom attend each year regardless of whether or not their own film is showing. Some have traveled from Germany, Scandinavia, Great Britain, and other European countries as well as New York, Los Angeles, and other parts of the US. If they attend the showing of their own film, they are invited down front of Drendle Auditorium (in the renowned S.A.L.T. Block) to participate in a Q&A session with the audience.
Winners of the best film in each category (just like the Oscars) are selected by the judging panel AND audience ratings. Each winner is recognized at the end of weekend gala with the presentation of a true "Footcandle" award.
Finally, the Footcandle growth has enabled the society to grant a film maker's grant each year to a promising director and/or project with the assurance that at least 50% of the project is produced in North Carolina.
Can this growth continue? Many hope so, for Footcandle Film Society and the annual Festival not only meets the needs of cinephiles in the area. but is an economic driver as a growing entrepreneurial firm. Monies spent at local theaters during the showings, revenue from memberships, ticket sales for the Festival weekend, the awarding of monetary grants to film producers, and theater rental all are all contributing to the economic growth of the area. But, the real potential comes with whatever MAY be the future impact of Footcandle Film Society.
Footcandle was a feature in the September 2019 issue of Our State Magazine, and reportedly has received much notice and acclaim from around the state.
Chris and Alan continue to draw attention as well as they were recently both asked to serve on the N.C. Film Critics Association.
Next?
Can you envision the renovation of local building into a unique venue of their own for showing films in a comfortable and interactive theater?
How about the development of a space to serve as an incubator for budding film producers?
How about Footcandle sponsoring the filming of its own scripts, documentaries, etc.?
Finally, it doesn't take much to envision Catawba County as THE epicenter of independent film and documentary production in North Carolina.
That would be nice.
ALL this simply because two guys enjoyed watching and talking about films!!
NOT A MEMBER OF FOOTCANDLE, BUT STILL WANT TO ATTEND FILMS?
You can! Footcandle Film Society can absorb a limited number of non-member film attendees at each showing for only a $5.00 admission fee. What a deal.
Go to the Footcandle Film Society website (www.footcandle.com) for more info and to get on their distribution list.
---
By Keith Simmons, MBA, GFB Connect Contributor